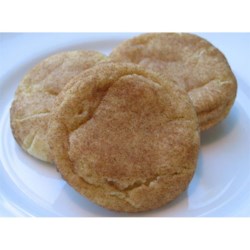 Okay guys, this is not my recipe. I wish it were, I would feel like a culinary genius. I randomly found it on
Allrecipes.com
.
Honestly, this is the best Snickerdoodle recipe hands down.
I urge you to try it. It's inexpensive, and odds are you already have most of the ingredients.
The one down side is that they can burn very easily if you don't remove them from the pan immediately. But the up side is that even the burnt cookies are good if you don't eat the bottom
Here's what you need
1/2 cup butter, softened
1/2 cup shortening
1 1/2 cups white sugar
2 eggs
2 teaspoons vanilla extract
2 3/4 cups all-purpose flour
2 teaspoons cream of tartar
1 teaspoon baking soda
1/4 teaspoon salt
2 tablespoons white sugar
2 teaspoons ground cinnamon
Here's how you do it
Preheat oven to 400 degrees F (200 degrees C).

Cream together butter, shortening, 1 1/2 cups sugar, the eggs and the vanilla. Blend in the flour, cream of tartar, soda and salt. Shape dough by rounded spoonfuls into balls.

Mix the 2 tablespoons sugar and the cinnamon. Roll balls of dough in mixture. Place 2 inches apart on ungreased baking sheets.

Bake 8 to 10 minutes, or until set but not too hard. Remove immediately from baking sheets.
A good way to tell if they are done is to very gently lift a cookie off of the sheet with a metal spatula to check the bottom. A light golden brown is what you're looking for.
Happy Baking!